BPA Free 5 Piece Toddler Dinnerware Set
Our bamboo fiber kids set are made from superior quality, food-grade material, 100% BPA free, a special blend of eco-friendly
bamboo fiber which is non-toxic has no plastic and is perfectly safe for the babies! The chemical-free dinnerware set comes
complete with a plate, a bowl, a cup, a fork, and a spoon. It feels good to the touch! This particular non-toxic dinnerware set
features a collection of lovely animals, funny cartoons on the product. Super cute design, great colors and has an
adorable vintage look. All 5 pieces are a great size to fit comfortably into a young child's hands and smaller servings.
The texture of the bamboo makes it easier for kids to hold, so the parents will have fewer messes to clean up!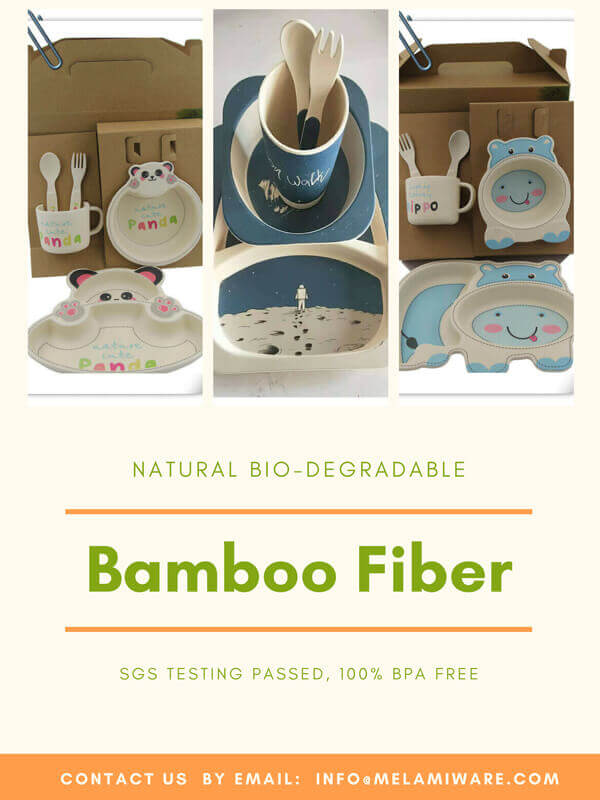 What a precious bamboo fiber dinner set for a toddler!
The BPA free children's dinnerware is a funny and kid-friendly alternative to adult dishes and makes a fantastic present for
anybody with toddlers or young children. We are so convinced that your kids will like having their own set of healthy kids plates
that they include the LesHeros
100% safety and eco-friendly product
. Children will love finishing their meals to see the adorable
design underneath!  The chemical-free dinnerware help toddlers and young children transition into using adult tableware and utensils.
The bright colors will always bring smiles to any child's face as they see this beautiful set in front of their chair at the table.
Our bamboo fiber tableware is very durable, you know that glass wear or ceramic ware is not good for the toddler because little ones
like to drop things on the floor, and with that, at times they tend to break. This non-toxic dinnerware set is made out of bamboo fiber
which is functional because it does not break and just bounces when dropped from a high chair or table.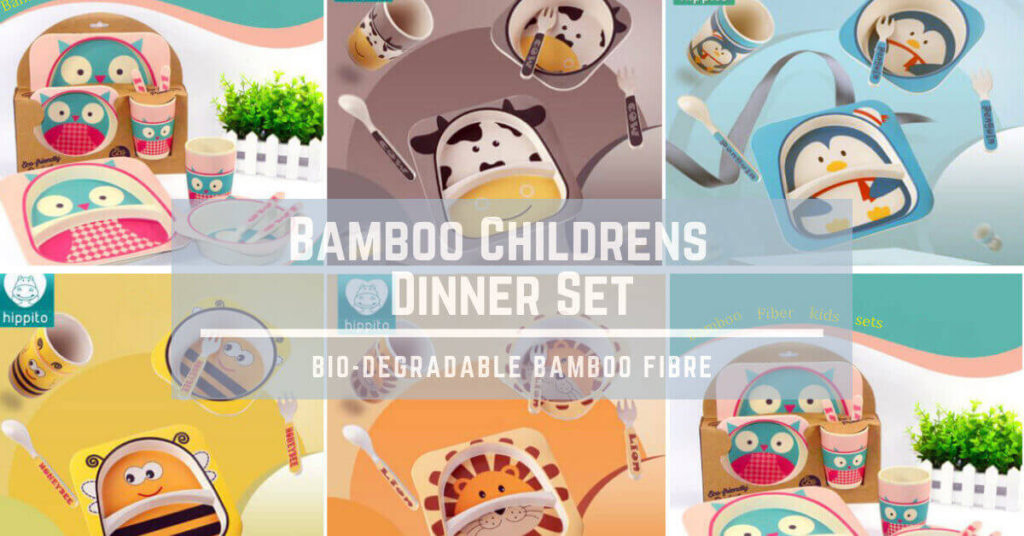 The advantage of Eco-Friendly Bamboo Fiber Baby Dishes
We try to do our part with the environment, so this makes our customer feel great. The material is not like any dinnerware you have
bought for the little ones. It describes the texture as making it easier for kids to hold and handle and reduces spills.
The bamboo is sturdier than the plastic
versions of sets like these. It's not a slick, slippery plastic feel. After using these,
you would definitely consider buying this type of product for adult users in your family! Overall the quality is excellent, easy to clean,
hasn't stained, It appears to be holding up well to everyday use. LesHero's bamboo fiber kids' set has a matte finish and is made of biodegradable, sustainable bamboo fibers.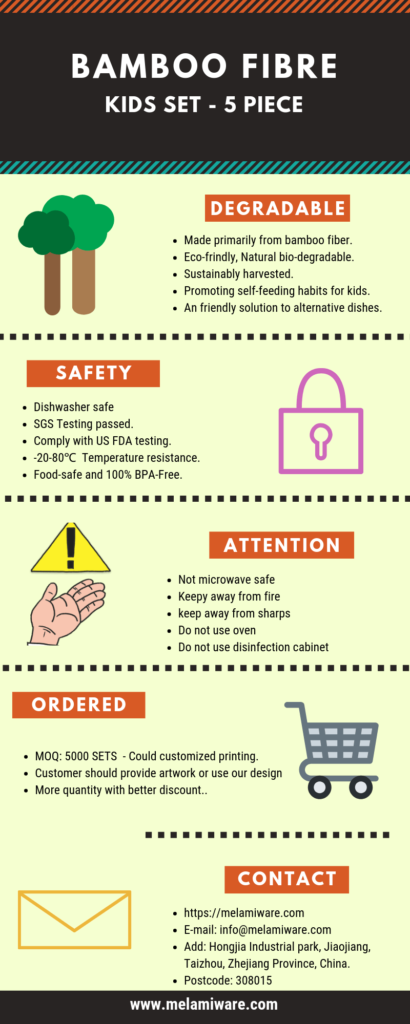 Why should you purchase this Bamboo fiber kid set?
Bio-degradable Bamboo Fibre, 100% BPA-Free, shatterproof. FDA food-safe approved.

Natural Non-stick surface and easy to clean. Even you don't use the detergent!

The dishwasher is safe but not suitable for microwave or oven use.

Various 5- Pieces model:  includes 1 Plate, 1 Bowl, 1 Drinking Cup, 1 Spoon, 1 Fork.

Dinnerware set is specifically designed for children who are beginning to eat on their own!

Best divided plates for toddlers and spoons for baby-led weaning.
If you're looking for the best baby feeding supplies, please contact us.
| Product Name | Bamboo Fibre Kids Set |
| --- | --- |
| Material | Bamboo Fibre |
| Product Size | Plate: 21.3x2.4cm / Bowl: 14.0x4.0cm/ Cup: 7.1x9.7cm/ Fork, spoon:13.5*2.8*1.7cm |
| Product Color | Assorted color reference |
| Product patterns | Use our stock decal paper or customized |
| MOQ | 5000 Sets |
| Packing | Color box or others. |
| Delivery date | Around 25 days. |
460ml bamboo fiber mug, the coffee cup made of bamboo fibres with reusable silicone rubber lid and sleeve. It is a perfect size compared to other bamboo fiber cups you have!